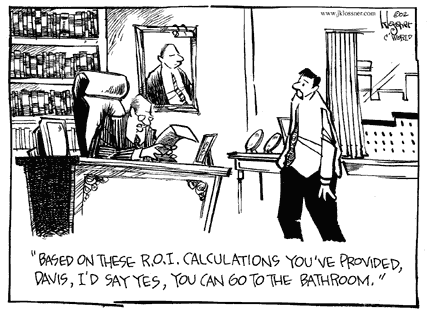 Human Capital Management covers a wide array of offerings that are designed to take care of employees. With the variety of items that are contained in HCM, there is no surprise that silos have emerged. These have been built and reinforced as more and more employee-support functions come under one larger umbrella, but continue to operate as separate entities. The question that we are trying to address is how do we tear down these walls and make HCM more synergistic?
Like any issue dealing with people, this probably isn't going to be an easy two week fix. And it certainly isn't going to be accomplished by making an announcement to the HCM team that as of now we are one big happy family. Truly tearing down the silos will take a strong leader willing to transform the organization starting with understanding the overall goals of the business and what needs to be accomplished by HCM in order to achieve those goals. Being willing to potentially "blow-up" some old methods and re-work activities to better suit the business and customer needs isn't always easy. Buy-in from and change management for HCM leadership is a must as you look to potentially re-design how HCM does business.
So where to begin?
Define the Outputs
Understanding what HCM is responsible for is an important first step. Truly digging in and getting to know what is expected and the outputs required is critical. Once we know what needs to be delivered, we can start to determine the processes and tools necessary to accomplish those outputs.
What are the Inputs?
The next step is to list and understand the inputs and touch points needed to achieve the expected outputs. These may include data from systems, inputs from other parts of the business, working with vendors that support different outsourced aspects of HCM. Understanding these inputs and partnerships will help during the process design and alignment process. These are key pieces of information to ensure that we can complete our responsibilities. Keeping all of the appropriate IT, business partners and vendors in the loop will ease the transition down the line.
Making it Stick
Finally, as with any project of any scale, change management is going to be absolutely essential. From the HCM leadership mentioned above, to the rest of HCM, to business and vendor partners and of course to employees. Change management will need to start with an explanation of why the change is occurring, the expected outcomes of the transformation and the process that will take place. The role of the HCM leaders as change agents can't be overstated and their buy-in is critical.
HCM silos are nothing new, nor are they going away immediately; but with strong leadership and a vision the walls can be torn down. Understanding what HCM is trying to accomplish, who needs to be involved to get there and how it is done while making sure you get buy-in along the way are key to being successful.