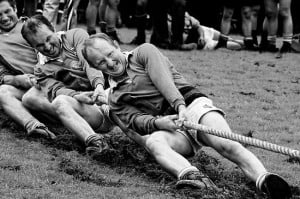 In last week's post we teed up the idea of avoiding the war for talent by doing a better job of internal development and succession planning. The key to making this type of program successful is the leadership and communications necessary to ensure managers embrace the concept of internal mobility.
Today we continue the discussion and focus on the roadmap and supporting technology:
The Roadmap
Like most business endeavors, the keys to success are defining the needs, assessing what you have, and developing a plan to acquire what is missing. In the case of succession and career path planning, the goal is to align the organization's needs and the employee's capabilities. Successful mobility programs are based on clear definition of requirements – a workforce plan and the attributes a successful candidate must have if he or she aspires to move into a role. There also needs to be a process through which the alignment can be attained.
In most organizations, requirements like education and experience are documented in job descriptions. It's less common that traits and competencies necessary for success in a given role are documented. Defining the details and the competencies gives employees and managers the ability to see what tools the employees have and in which areas the employees need development. Developing a competency bank and assigning those competencies to employee roles is a complicated task, but it is one that eliminates ambiguity and is the foundation of mobility readiness assessment.
Once the definitions are established, employees and leaders should work together to document employees' competencies, their needs and how they can fit into the big plan. They should also work together to develop an action plan or roadmap that will get the employee prepared for the next assignment.
How Technology Fits In
The good news is that there are many talent management tools available to help organize and facilitate succession and career mobility planning. Leading vendors have done much of the work involved in defining basic competencies required for most common roles. They have created Web-based systems that manage the assessment and development process. Easy-to-use tools designed to facilitate planning (both career and succession) across organizations simplify the processes and improve adoption.
One way to help expedited development of a completed set of competencies is to start with a baseline set of core competencies which can then be modified to capture unique requirements. Once established, the competencies are systematically linked to the roles and to the employees who possess them. When the links are completed it becomes evident which employees are suited for what roles, and it illustrates gaps that must be filled before the succession or mobility plan is ready for execution.
System selection is critical, and as stated earlier there are many to choose from. They have a wide range of features, some of which might not be needed in every organization. An organized selection process is important. The process should be based on documented needs and goals, including factors like budget and schedule. Including stakeholders in the selection and implementation processes will ensure that everyone's needs and concerns are considered. This will improve user adoption and overall success.
The Results Justify the Cost
Culture change is typically slow and difficult, but it doesn't have to be, especially when the result benefits everyone involved. Providing tools for employees to identify and pursue career advancement or redirection allows leaders to hold on to their most valuable assets, employees.
For employees, mobility options can heighten engagement levels, the sense of belonging in the organization and most importantly, the desire to stay. In a time when productivity and profitability often depend on employee engagement, internal mobility and retention is not simply a nice-to-have idea, it is a fundamental talent management capability that can be critical to a company's success.